Why Choose Jnbz as Your Painting Contractor?
Are you looking for high quality pro painters who deliver your painting project as good or better than a franchise painting service but at a lower price!
Why? Because we are an independent painting contractor so you don't for pay their expensive franchise and marketing fees.
When you choose Jnbz Painting as your house painter we listen to your needs and we pay attention to the details so that you get a quality house painting in a timely manner. And we leave your home clean after the job is done.
We Guarantee* your satisfaction - because you don't pay anything until you are 100% satisfied with your freshly painted house.
When you choose us, you are choosing a painting contractor that is built on a solid foundation of satisfied customers. Our customers recommend our house painting service to their friends and family members. And they always come back.
And of course we are insured for liability and WCB to protect you and your home as well as maintaining the highest industry standards.
Call us at 778-552-4926 today for a FREE Quote for your house painting project.
Our Customers Always Come Back! Why? Because they are thrilled with the painting service we deliver with pride. And in the unlikely case there is a problem - we always make it right before you pay. That's our Guarantee* to you!
Here's what customers are saying on Google Reviews :
"I'm EXTREMELY happy! Jan has transformed my entire home. His lines are perfect and very professional. I felt very comfortable giving him complete access to my home. Thank you for such beautiful job at a great price! Recommend very highly!!!."
- Michelle Snow
"Jan did an amazing job on the interior main and second floors of our home! The quality of the job was immaculate, his prices are very fair and he aims to make sure you are satisfied with the finished product. He is the consummate professional and I would highly recommend him to anyone ."
- Marci McKenney
"Jan painted the interior of my home. He did a very professional job at a reasonable price. I have no problems recommending Jan for your painting requirement. I will be using his services again. Thank you Jan.."
- Geoff Hughes
For a worry free painting project that Guarantees* your satisfaction call us now at 778-552-4926 for a Free Written Quote.
For any re-painting project for our professional painting contractor it is essential that the surface of the areas to be painted are properly prepared before any paint is applied. For painting interiors this includes filling any holes as well as sanding and removing any dust and particles. This includes drywall renovations and restorations. Either way you can rest assured that we will do the right prep work before any paint goes on to ensure your new paint job will look perfect and bring long term value to your home.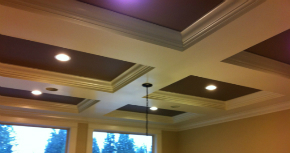 We offer high quality interior painting in Langley, Surrey, Vancouver and area by a professional painting contractor. Also re-painting your home, commercial building or strata corporations. Because weather conditions for our painters in the Vancouver area between May and Octoberfavour interior painting, this is a very good time of year for your professional interior house painting projects both from the point of view of house pinting schedule and value to you. To learn more call us at 778-552-4926 for a free consultation.
Jnbz Painting's professional painters are an excellent choice for the best in custom home painting in Langley, Surrey, Vancouver and the rest of BC's Lower Mainland. With over 15 years of experience in delicate and meticulous detail painting to bring out and highlight the unique aspects of your custom built home's personality. From assisting in colour selection to complement your home's interior details to putting an outstanding finish on its exterior. Every detail of your home's requirements will be highlighted as it deserves. We can help bring out the true spectacle and showcase your custom built home. Call us for a free consultation on painting your home.
About Us - Why Our Customers Come Back!
For over 15 years we have providing top quality house painting service in Langley, Surrey, Vancouver and the surrounding areas. We pride ourselves on providing top quality professional painting and re-painting services for residential customers, commercial customers and new construction.
Our service includes both interior painting, custom home painting, repainting your house for sale and commercial painting. And as you would expect from a professional painting service we are WCB insured and Insured for $2 Million Liability so both you and your property are protected. We will provide you the best paint within your budget. You can count on us for an on time and on budget professional painting job delivered in a professional manner with a high level of customer service.
Our customers always come back
. Why? Because they are absolutely thrilled with the job we do and our high level of service. So
save yourself time, money, frustration and avoid problems
from the start. Call us now at
778-552-4926
for your
free quote today.
And remember- We Guarantee* Our Work 100% Before You Pay!
Call 778-552-4926 for a FREE Written Quote!

Seniors - ask about our senior's discount!


Insured for $2 Million Liability

Check Out Our 5 Star Google Reviews
We recommend using Benjamin Moore paint, the best paint for your home!

*Our Guarantee
When you engage our painting service we guarantee your satisfaction before you pay.
If you are not satisfied for any reason we will continue to work with you until you are completely satisfied!

That's our guarantee to you, our customer.